Oh, well...
I was steeling myself for my son's victory the other day... He was super-confident of passing his driving test first time... And was grizzling to be added to MY car's insurance on the day after passing... This was going to cost me dear - As much as I am expecting our summer holiday in the Netherlands to cost, in fact - IN TOTAL!
I knew then that my summer would pass in a blur of forking out even more spondoolicks, this time for petrol for him, while he sped up and back hill and vale visiting The Woodland Faerie and his ne'er -do-well mates, and I only ever saw the back of my car with him careening off into the hazy distance.
He narrowly failed, as it turned out. Four minors, but as two were the same minor, (BRAKING SHARPLY AND NOT CHECKING THE REAR VIEW MIRROR BEFORE THE MANOEUVRE), he received one major, therefore failing.
Now I have some breathing (even hyper-ventilating - Does anyone have a brown paper bag spare?!) space. We have our summer holiday in just over a week's time, then he re-takes his test on the 28 August at 1400...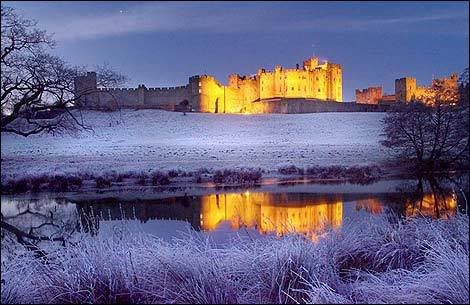 I should caution you to avoid the roads around Harry Potter, (and the famous Harry Hotspur Percy's), Town of Alnwick at that time and date... ( Above, in snow... It doesn't usually get this cold in the summer, but never say never! )
And if he passes...? Then avoid the town forever after, if you value your life and liberty...
I swear!