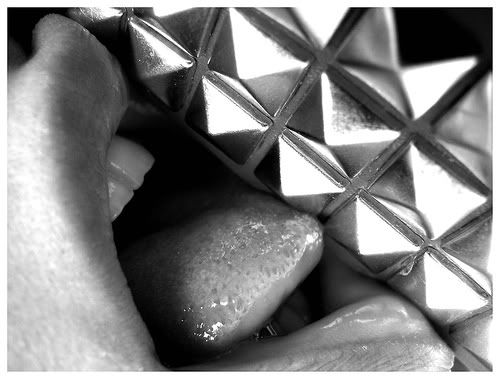 Of late, and hereabouts especially in this place, (and others), I have been indulging in a Queen-Size Bout of Moaning About My Son... He's called Grizz, or Grizzles, do you recall? G for short.
And G has tried my patience. He would try the patience of a saint, he would!
And recently, I have had occasion to spend some Quality Mum Time with Grizz... (I call him by his Proper Name when we are in company, I must admit...) We're both on our hollingberries now, you see.
And spending time with G has been a pure and unadulterated pleasure... For the most part... I shall avow. (There have been flashes of the old Grizzmanship, still -- Well, he doesn't want to let the Teen Tribe down, does he??!).
...He hasn't become all biddable, by the way. I can't rely upon him to pick up the myriad of dishes, cups and cutlery that lie, (like the landmines that killed my husband's grandfather at the close of the Second World War), precariously about my carpets - All at kickable, breakable, shriekable height.
He hasn't suddenly gone all soft and daft and started doing his own laundry, picking up around the house after himself, helpfully helping me to pack for our holiday or taking out the garbage...
No. But he has been pleasant. He has made me laugh. He has given me his arm in the street when my step faltered... (No, I hadn't been drinking then, Sazzie!) ...He even went shopping with me - for his clothes for our hols, I might add - I'd never take him shopping for me, for my clothes... No! Even when he was a baby, I didn't drag him screaming around shops as I've noted many parents do... (I just didn't go shopping for ages, unless it was for the week's groceries, more or less. Friends could never rely upon me for details of where the nicest shops were in the city, as they had all closed and moved on in the years since the last time I had entered their shopaholic heavenly portals...)
So what has changed? Perhaps G's just growing more mature? Perhaps it's the influence of The Woodland Faerie, (who's 18, so probably that counts as 30 in Grizz-Years?)...
Perhaps he's more relaxed since school broke up, with our holidays winking at us from over the hill?
Perhaps this was the lovely child I once knew and practically worshipped, who was actually hiding inside this growling, argumentative gargoyle for a number of Teen-years?
Whatever it is, I'm not questioning or quibbling! I'm languishing in the moment. I'm taking and giving those bear-hugs - They feel good. Great, in fact... He told me he loved me the other day... Twice... And without being coached!
I love him. I always did... (Until the next time! I'm not 'counting Fhina's chickies before they're hatched', mind!)
'Touch wood!'